Review of the OpenSky® Secured Visa® Credit Card
Are you thinking about applying for the OpenSky® Secured Visa® Credit Card or another secured card? As with any credit card, you should closely examine the card features to understand your options. Evaluate the pros and cons to see if this card aligns with your needs.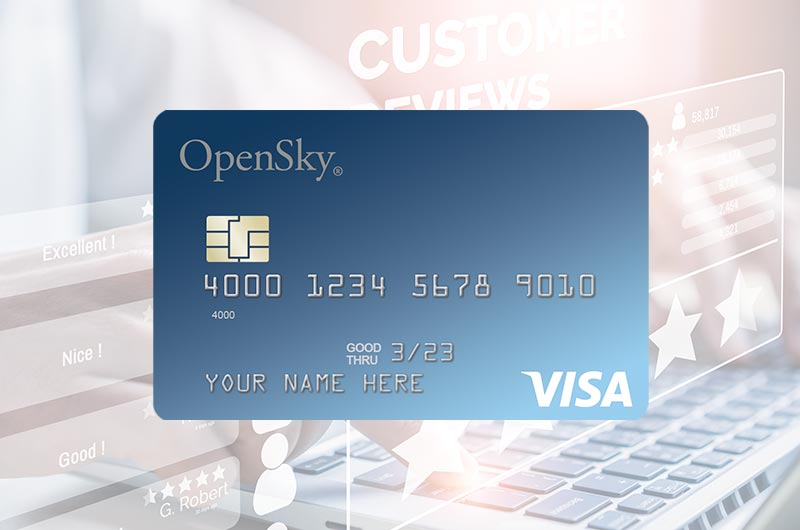 Key Features of OpenSky® Secured Visa® Credit Card
Here are some key features for the OpenSky® secured card:
Credit limits between $200 and $3,000 with corresponding security deposit and account approval
$35 annual fee
17.39% variable APR
Security deposit is completely refundable
Payments reported to all three credit bureaus
No credit check or bank account necessary for approval
25-day grace period
The OpenSky® Secured Visa®: A Secured Card with No Bank Account Required
The OpenSky® Secured Visa® Credit Card is one of the few secured credit cards on the market that does not require a bank account to open. With most secured cards, you need a checking account to provide the refundable security deposit for the card. This is still an option with OpenSky®, but you also have the option to send the deposit via Western Union or money order.
To open a secured card without a bank account, simply select the option for "I'll need to pay my security deposit at a later date" on the application. Once approved, you'll receive an email with instructions on how to send in your security deposit. If you cancel your card at a later date, the refund of your security deposit will be mailed to you.
Advantages of the OpenSky® Secured Visa® Credit Card
The OpenSky® Secured card has a number of advantages to the consumer. The card supports credit limits between $200 and $3,000, which can appeal to a wide range of users. Many other secured cards only allow $2,000 security deposits. If you're looking for a card with a decently high credit limit option, this could be the one for you.
The card has a 17.39% variable APR that is slightly higher than some secured cards. But you can avoid interest altogether by paying off your entire balance on the card each month within the grace period.
The OpenSky® Secured Visa® Credit Card boasts about its strong online community, where users can share their credit building stories and personal experiences with the credit card. If you have past credit struggles, this could be a platform for you to learn from others and get advice from fellow cardholders.
The $35 annual fee for the OpenSky® Secured Visa® Credit Card is relatively low when it comes to secured cards. This is ideal for users who want to build credit with the lowest possible carrying costs. A number of other secured cards charge close to $50 annually.
Drawbacks to the OpenSky® Secured Visa® Credit Card
There are a few drawbacks to the OpenSky® Secured Visa® Credit Card that you'll need to keep in mind. If you plan to carry a balance month-to-month, the 17.39% variable APR is higher than some other secured cards. You may be better off searching for a card with a lower APR.
Cash advances are expensive no matter what type of card you choose, but they can add up with the OpenSky® Secured Visa® Credit Card. We recommend avoiding cash advances if at all possible because the fees often outweigh the benefits of the transaction.
While the upper credit limit on this card is higher than some at $3,000, be aware that there are some secured cards which allow up to a $5,000 credit limit with a corresponding security deposit.
Is the OpenSky® Secured Visa® Credit Card a Good Card for You?
With the above factors in mind, decide if OpenSky® Secured Visa® Credit Card is a good choice for you. Perhaps you need a card with a lower interest rate or a higher credit limit. Maybe the OpenSky® is exactly what you're looking for! Compare your options on SecuredCardChoice.com to find the best secured credit card for you.
How Long Does It Take to Build Credit with the OpenSky® Secured Visa® Card?
According to OpenSky®, 99% of their users who get a card with no credit score are able to establish a credit score within six months. How quickly you can build credit with OpenSky® Secured will depend on a variety of factors, including the current state of your credit, how often you use the card, how high your credit limit is, and if you make monthly payments on time each month.
Here are some tips to build your credit with your OpenSky® Secured Visa® Credit Card:
Make all of your monthly payments on time.

Payment history accounts for 35% of your FICO score, so it's crucial to make payments on or before your due date.

Maintain a low balance on your card.

Ideally, you should pay off your card balance in full each month. If you are unable to do that, pay off as much as possible to reduce your interest charges and keep your credit utilization at or below 30%.

Use your OpenSky® Secured Visa® Credit Card regularly.

This will show consistent activity, which can help you upgrade to an unsecured credit line in the future. If you use your secured card instead of cash for everyday purchases, save that cash until the end of the month so you can pay off your balance in full with the money you would have spent on those transactions.

Be patient about credit changes.

It is going to take several months to see improvements to your credit score. Do not expect an immediate change in your score.

Get a high line of credit.

You determine how high your credit limit is based on the amount of your security deposit. The more you put in, the more you'll be able to use your credit card. Having a high limit also lowers your credit utilization rate, which is the ratio of credit you have used credit compared to your available credit. If you can keep this rate below that 30% threshold, you have a better chance of building a positive credit history.

Avoid other debt while you build credit with OpenSky®.

Turn your focus to developing smart card habits with your secured card, not accruing new debt. You may be looking for a secured card because of past credit challenges. Don't repeat those mistakes again. If you have outstanding debt already, work toward repaying that while you boost your credit score with a secured credit card.
Before you sign up for OpenSky® Secured Visa® Credit Card or any other secured card, make sure you're in a place financially to manage the account well. Secured cards are excellent tools for building credit, but only when they are used properly. If you can manage the monthly payments and afford the security deposit, take this opportunity to revitalize your credit portfolio.
OpenSky® Has a Strong Online Community
Need help managing your OpenSky® Secured Visa® Credit Card? Want advice from other cardholders who have been successful with OpenSky®? This secured credit card has a strong presence on Facebook. You can join thousands of other cardholders in discussing credit building tips, money management solutions, and much more. Even if you don't have your card yet, you can use the online community to make an informed secured card choice.